Delve Into Ruby Fortune's Best Paying Slots!
Source: Ruby Fortune If, like most Ruby Fortune online casino players, you want reels that offer the gripping thrills of special features and generous winning chances, you need to keep reading! You can discover our best-paying online slots, find out about their payout rates and volatility, and discover their special features.
RTP and Volatility
Firstly, we need to mention something about Return to Player (RTP) percentage and volatility. Basically, if a game has a 97.45% RTP, 97.45 of every 100.00 bet is paid out over a set time. This is a theoretical number though; so don't expect this return every time you play as it has been worked out as an average by the developer. Volatility is connected to the RTP, and describes the type of action the slot usually offers. The higher the RTP, the lower the volatility. Experience what we mean when you get your online slot thrills at our casino.
Featured Best-Paying Online Slots:
Jungle Jim El Dorado
Pretty Kitty
Bikini Party
108 Heroes Multiplier Fortunes
Game of Thrones
Beautiful Bones
Break Away Deluxe
Couch Potato
Dragon Dance
Get Rocked
Jungle Jim El Dorado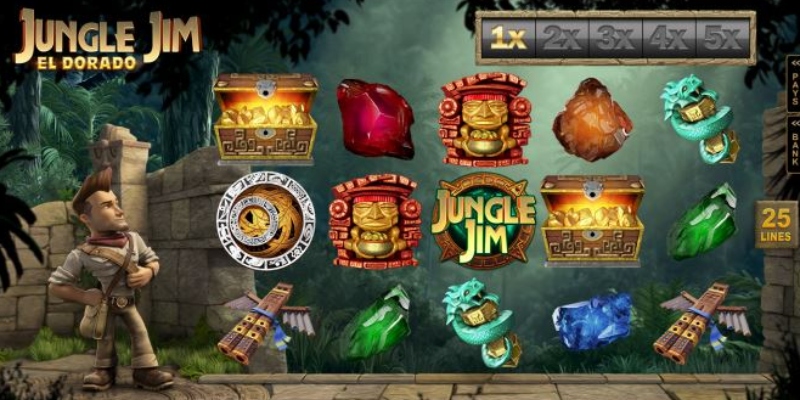 Source: Microgaming
Forget about dead books and questing conquistadors. If you want real adventure, Jungle Jim El Dorado is where it's at. With a 96.31% RTP, Jungle Jim El Dorado is a medium-volatility online slot. You can enjoy chances to win on its 5 reels and as many as 25 paylines for between 0.25 and 25.00 per spin. The game offers you the chance to join a real adventurer on Microgaming's Rolling Reels™, and you could see the additional winning power of Wilds, Scatters, and Free Spins. Jungle Jim El Dorado also features a Multiplier Trail.
Pretty Kitty
If your vision of a perfect world includes cats dripping with diamonds and jewels, Pretty Kitty will bring you a few steps closer to that reality. It has 5 reels, 243 Ways to Win, and a 96.17% RTP, which puts it in the category of high volatility online slots. The 0.30 minimum bet and the 75.00 maximum bet make it a good choice for gaming on a budget, as well as for rolling high. The game includes Wilds and Scatters, Free Spins, and stacked and expanding symbols.
Bikini Party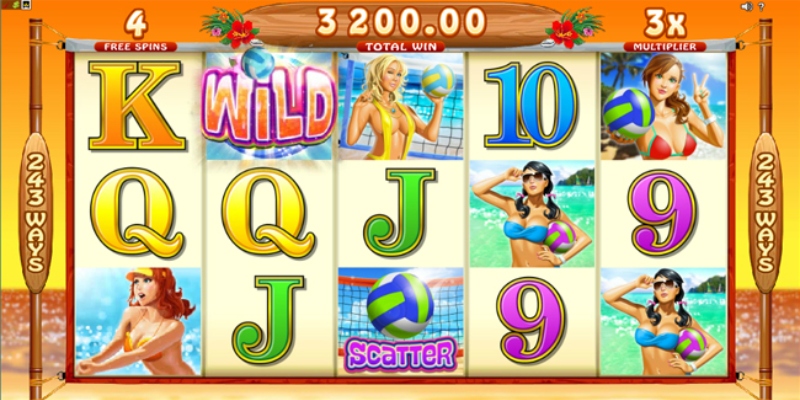 Source: Microgaming
Not only one of our best-paying slots from Microgaming, Bikini Party also is one of the most popular titles at our casino. It has a fun theme, a low-volatility 97.49% RTP, 5 reels and 243 Ways to Win. It gives you the chance to get up close and personal with a bikini-wearing women's volleyball team. If you are lucky, you will get to enjoy the added excitement of substituting Wilds, Scatters, Free Spins with multipliers, and a Re-Spin feature.
108 Heroes Multiplier Fortunes
A 14th century Chinese folktale springs to life on the 3 reels and 9 paylines of 108 Heroes Multiplier Fortunes. Its 96% RTP makes it a medium volatility slot, and you can play it for between 0.15 and 37.50 per spin. Most of the reel symbols are those you will find on most classic games, such as 7s and fruit. The warriors all are Wilds that also act as multipliers. If 2 or more warriors land on reel 2, it will lock in place while reels 1 and 3 re-spin.
Game of Thrones
Source: Microgaming
Make-up and jewellery, sneakers, scented candles, and whisky are just some of the themed merchandise inspired by the smash-hit series, Game of Thrones. Microgaming's 5-reel online slot with 243 Ways to Win, special features, and a medium volatility 95.07% RTP is another way in which you can live the Westeros dream. Game of Thrones' minimum and maximum bets of 0.30 and 6.00 make it affordable for all players. In addition to Wild and Scatter symbols, you could enjoy 4 different Free Spins features, as well as multipliers.
Beautiful Bones
Source: Microgaming
Celebrate the Day of The Dead, AKA Dia De Los Muertos in Beautiful Bones, a playful and not morbid at all online slot game that livens things up the minute you start spinning its reels! With Beautiful Bones Microgaming are once again at the forefront of gaming innovation and fun-filled ways to play.
Beautiful Bones is based on a festival of celebration and there's certainly cause for celebration if you elect to play it. Boasting Microgaming's famous 243 Ways to Win system, wins are achieved from left to right as long as at least 3 like-symbols appear in succession. This top-playing online slot game has an RTP of 96 to 97% and is classed as a low-volatility game. This means that in terms of its hit rate, it's not very high, but when it does hit, its likelihood to reward players with sizeable returns is strong.
Sporting lavish graphics and a Sugar Skull Free Spins metre, Beautiful Bones gives you the option to build your way to even greater rewards if you choose to do so. Each time the Scatter symbol (sugar skulls) appears on reels 1 and 5, you'll collect these symbols and add them to the metre. Collect 10 and you'll be able to receive 10 Free Spins with all wins multiplied by 3. Alternatively you can opt to go on playing and collecting more skulls. Collect 15 with a 4x multiplier and a maximum if 18 with a 5x multiplier.
Break Away Deluxe
Ice Hockey, it's thrilling, it's exciting and it's aggressive. With Break Away Deluxe, a follow-up and improved variation of the original Break Away online slots game, players can return to the ice and experience even more ways in which to potentially profit!
Many are calling Break Away Deluxe one of the best online slot machines around because of the way it ups the ante in almost every possible way. This time around players are faced with a 5 x 5 reel game that despite its larger size will fit snug and run smooth on your mobile device of choice. But it's really the features of this ice-cool casino game that makes it stand out from the crowd. With an RTP of 96.88% and a high volatility rate, Break Away Deluxe is the kind of slots game that can bring about a steady flow of reward opportunities, thus likening itself to the very game of ice hockey.
Microgaming have gone out of their way to load this game up on features, so expect to stand to profit from things like Free Spins with Multiplier Trail, Growing Wilds™ and that classic Microgaming invention, Rolling Reels™.
Couch Potato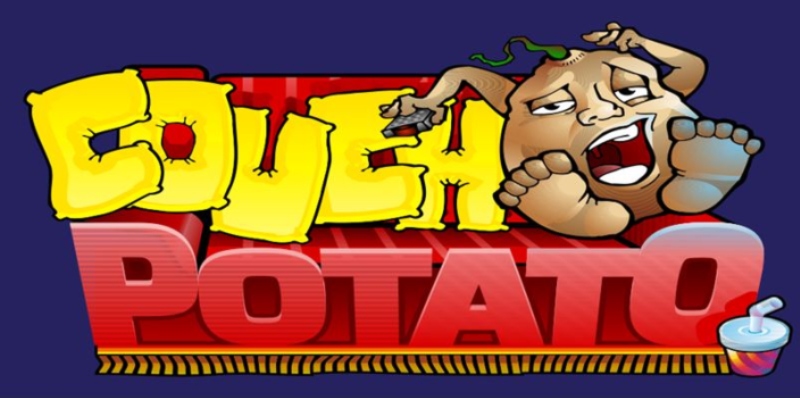 Source: Microgaming
Don't be fooled by what could easily be perceived as the timid nature of Couch Potato. As one of Microgaming's oldest titles, this game still has lots going for it. The fact that its popularity remains high speaks volumes about the type of gaming experience it provides. You'll find there's no time to slouch once you load up the couch!
PC, smartphone and tablet compatible, this top paying slots game offers players an RTP of 97.43% and is classed as a high volatility game – implying it has the ability to let players experience a high succession of wins. If retro ever had a name in this industry, it would be Couch Potato.
Released way back in the early 2000's, this Microgaming three-reel classic pleasantly surprises players with features that one would usually expect to only find on a video slots game. This once again proves that when Microgaming made Couch Potato, it placed it ahead of its time! Outside of a funny animated potato slouched on the word 'couch', you can expect to potentially profit from Wilds, Scatters and Multipliers – the bread and butter features of all high-quality online slot games.
Dragon Dance
The allure of the East is brought to life in another one of the best paying online slots to grace our monitors and smartphone screens – Dragon Dance. Once you start spinning the reels of this one you'll soon find yourself pleasantly engulfed in the revelry of the Chinese New Year festival. Microgaming have respectfully and gleefully paid homage to this event by way of applicable images and thus you can expect to see shades of red, traditionally believed to ward off bad fortune, complemented by splashes of gold, blue, green and purple to reflect the joy and vibrancy of the festival.
Dragon Dance has an RTP of 97.49% and has been theoretically classed as a casino game of variable volatility, implying it's somewhat unpredictable, which is not a bad thing at all as it also means that it can truly surprise the player. Naturally Microgaming have imbued this title with tropes that one could only expect from the company. Opting to enjoy this online slots game means that you could profit from 243 Ways to Win, up to 15 Free Spins each time 3 or more Scatter symbols appear and the newly unveiled Reel Respins. This ultra nifty feature allows you spin one of the reels again after having made a bet. It comes at an extra cost, but then there could also be an extra win.
Get Rocked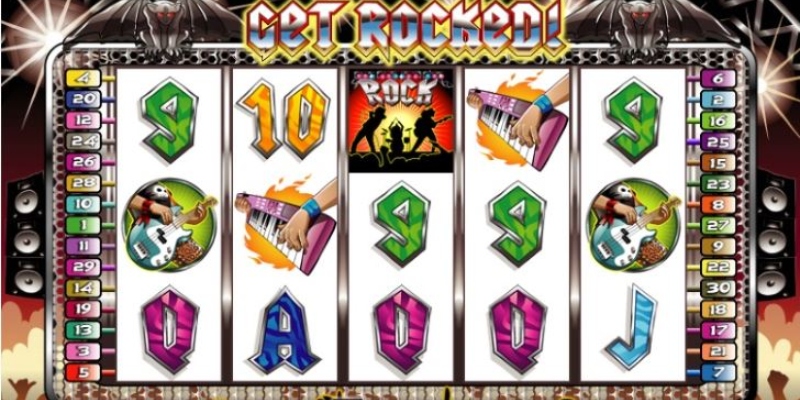 Source: Microgaming
Fancy your rock music as much as you fancy your slots games? Then look no further than Get Rocked, one of the older Microgaming video slot titles around but one still deemed worthy by many players and considered one of the best online slot machines around. While it's age might show in its graphics, age is nothing but a number when it comes to features and the potential to profit!
Microgaming have equipped this one with a total of 30 paylines strung to 5 reels and 3 rows. Outside of the various rockers who will fill the reels with their musical antics, Get Rocked offers up Scatter symbols, Free Spins and best of all, the good old Gamble Feature. Appropriately termed as the Gamble Feature, this option for a chance at more potential profits presents itself after you've achieved a win. It's a simple guessing game, but remember, there's a reason it's called the Gamble feature.
How Fair Are the Games at Your Casino?
Ruby Fortune is powered by Microgaming. The world's leading online casino game provider, Microgaming places such importance on accuracy that it developed Playcheck. This state of the art system is updated every 45 minutes and lets you check the accuracy of every bet you placed on the provider's games in the last 3 months. You can rest assured that safe, fair and unbiased gaming is part and parcel of the experience when you play slots created by this developer.