The Incredible Balloon Machine Pokie Takes Flight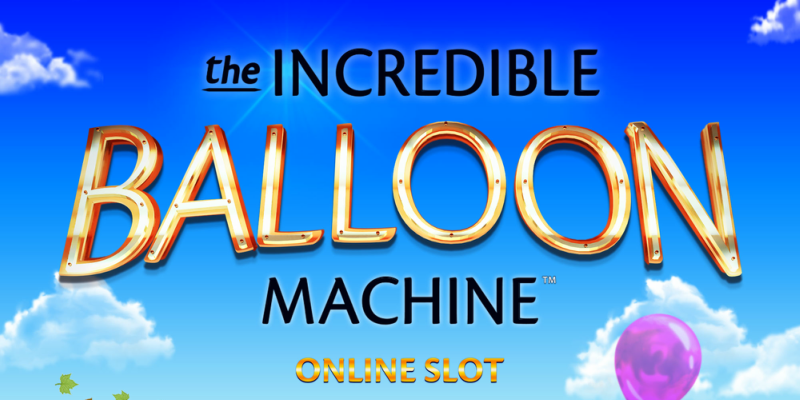 Source: Microgaming
The Incredible Balloon Machine brings together everything you could wish for in an online pokies game at Ruby Fortune, including a gorgeous theme, smooth mechanics, generous payouts and innovative features. Play this awesome new online pokie when it drops and enjoy being whisked away on a wind of whimsical wins!
No Reels, Rows or Paylines
Yes, you read that right. Crazy Tooth Studio is the developer behind The Incredible Balloon Machine, and is one of the most exciting independent brands to be partnering with Microgaming as part of its on going mentorship programme.
By collaborating with smaller companies, the industry legend keeps its content fresh, and its players entertained. At the same time, independent developers get to take advantage of Microgaming's considerable knowledge and resources.
The Crazy Tooth Studio team is especially dedicated to creating online pokies with clever twists and innovations, and they've really outdone themselves in The Incredible Balloon Machine. Charming, light-hearted background music and balloon-blowing sound effects complete the delightful atmosphere.
The WiNCREASE System
The Incredible Balloon Machine operates on Crazy Tooth Studio's WiNCREASE System, an innovative game mechanic that feels like a breath of fresh air. To blow up the balloon, you press and hold down the "spin" button. A credit amount appears on the balloon, and the longer you hold the button down the higher this number climbs. You could anywhere from 5% to 7,3% of your original stake back – a winning increase, indeed!
Of course, like all balloons, these ones can over-inflate and then burst. If that happens before you've banked your prize, you lose it. But it's not as simple as watching for when the balloons grow large enough and pop; this can happen at completely random times, to really keep you on your toes.
You can't cheat and try to bank your wins too early either; the bet is only activated once you've been pressing the "spin" button for a certain amount of time. This is indicated by a needle on a dial; it must enter the yellow zone before the balloon credit starts building up.
Interestingly, the hit rate depends almost completely on how you play this pokie online. If you cash out early with every credit, you're looking at a rate of 9%; if you keep holding on for that big win the rate jumps to 41.08%. For those who like to mix it up a little and hold down the button in some rounds while grabbing wins as soon as possible in others, the rate evens out to 19.49%.
The theoretical Return to Player percentage of this medium-volatility online pokies game is a very decent 96.75% making The Incredible Balloon Machine worth playing for both its entertainment value and cash rewards. Of course, you can also opt to play in the demo mode if you just want to have fun or get familiar with the game's new take on traditional reel spinning fun.
Special Features to Inflate Wins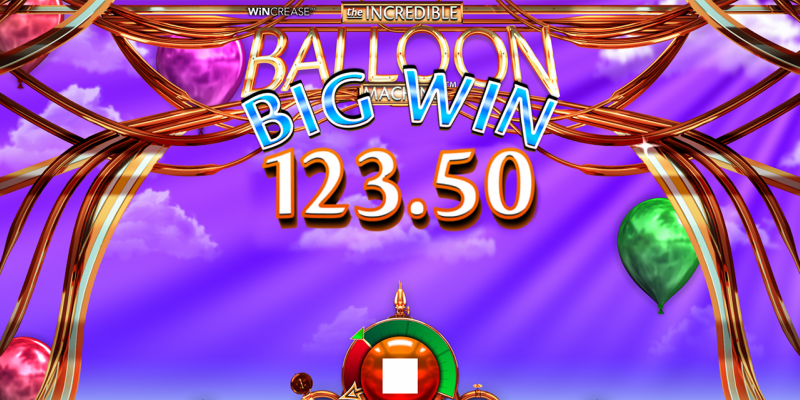 Source: Microgaming
To take your payouts to even loftier heights, Microgaming and Crazy Tooth Studio have added a few extra features to their new title. These aren't the Wilds and Scatters that are the usual online pokies fare, though. Instead, multipliers are triggered at random as a balloon is getting blown up, as long as the needle has reached the yellow zone.
When this happens, a number of light bulbs appear on the screen, displaying different multiplier values. The values are x2, x3, x4, x5, x7 and x10. Each will light up in turn until one is chosen by the software's algorithms, and stays illuminated. The multiplier that it shows will then be applied to your overall win.
Less common than the multipliers, but perhaps even more exciting, is the Pick Bonus game. This also happens at random times; you'll see a golden balloon that will either pop or grow to its full size. If it grows, it will activate the Pick Bonus that works by displaying a new set of 5 balloons you'll be required to choose from.
Each bonus balloon reveals extra playing credits or further multipliers, extending your online pokies playing time or directly increasing your payouts. The multipliers are all worth 2x, and will be multiplied together to arrive at your final prize. If you're very lucky, the balloons contain an "Advance" icon that moves you on to the next round with 5 new balloons to pop. If you get a "Complete" symbol, the round is over and you're returned to the main game.
A Fulfilling Flight of Fancy
All told, The Incredible Balloon Machine is like nothing we've ever seen before in pokies online, and it's sure to appeal to players of all tastes and preferences. With a top payout of 3,082x your stake, it's also very rewarding, and could land you as many as 123,280 credits. If this is the kind of innovation we can expect from Crazy Tooth Studio, we can't wait to see what they do next!