New Slot Seven 7's Set To Impress

Source: Microgaming
Sometimes the best way to move forward is to remember the classics. This is the philosophy behind the latest slot from Crazy Tooth Studio, working in conjunction with Microgaming. This interesting new online slot game, at first glance, looks to be stolen from a time long ago. But, look closer and you'll see that it is an evolution of slots like never before. Using instantly recognisable symbols, an appealing visual style, and rules that anyone can pick up, Seven 7's is the blast from the past that will ultimately evolve the slots of the future.
Seven 7's is set for release at Ruby Fortune Casino on the 18th February 2020. It can be played on desktop computer or on smartphone, so you can join in the fun anywhere you prefer, and at any time too!
Old But New Gaming
Everyone feels nostalgia, even slots enthusiasts. Remember when it was just a few basic symbols, with none of that flashy business? You knew what was going on, weren't confused, and understood what was happening on the reels.
The developers at Crazy Tooth Studio heard the cries. Seven 7's does indeed take its visual style from the slots of old, using just a handful of easily recognisable symbols on the reels. But, look again and you'll notice that there appears to be only one row. However, new reels can be added, as the game progresses, expanding the winning potential.
Seven 7's is instantly appealing in every regard. The revolutionary expanding reels system is unlike anything that has come before, and it is all done with just 3 symbols. This is the slot evolution that everyone has been hoping for, but never thought would be possible. Slots will never be the same again, that's for sure.
How Many Symbols?
Yes, just 3 symbols appear in Seven 7's. That is all that is needed to make one of the most engaging, innovative games in years. There is a 7, BAR, and x2 multiplier. Different combinations of these symbols make up the entirety of the game, all of its payouts, and all of its special features. The simple rule is; the more 7s, the more you're getting paid.
But, combine those 7s with multipliers, and your winnings are going through the roof. The game system is based around multipliers, and chain wins. In essence, every player will know exactly what is going on with each spin. There are no confusing rules, no flash special effects to dazzle, and no distracting animations. The game is all about simplicity, and taking players back to a time when a slot was a simple experience.
Fine Details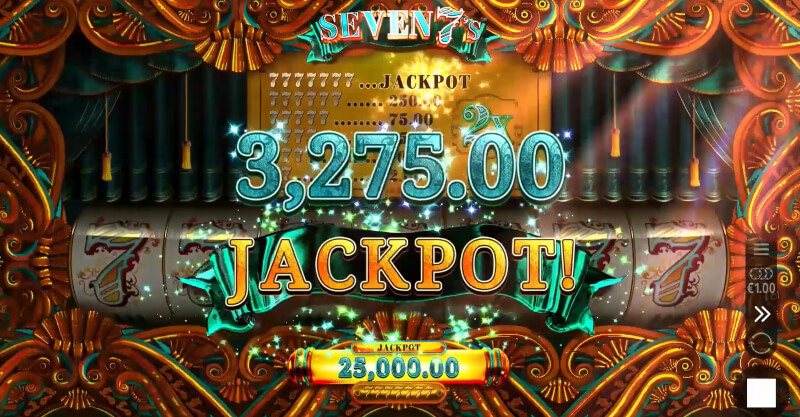 Source: Microgaming
In order to understand the game on a deeper level, Crazy Tooth Studio and Microgaming have revealed all the specifics that makes this slot tick. The game has an expanding reel system that expands up to a total of 7 reels. However, there is always only 1 row, and 1 payline.
The RTP is 96.6%, the volatility is high, which means larger wins relatively regularly, and the hit rate stands at a permanent 20.83%, regardless of how many reels are currently active. The minimum bet is set at 0.20 coins, and the maximum at 10 coins per. The highest possible win on a single spin is 25,000 coins, so rich rewards could well be yours.
How Does It Work?
The game is based on the concept of chasing the lucky number 7. Each spin starts with just a single reel, and single row. Yes; just 1. If the spin comes up with a 7, it is counted as a win, a reel is added, and the spin continues. If the new space comes up with a 7, the payout is raised, a new reel is added, and the spin continues. This process continues until such time as a BAR is landed, at which point the spin ends, the payout is granted, and the round is over.
If a 2x multiplier appears in any space, the spin continues, the current payout amount is doubled, and a reel is added. Yes, it is as easy as that!
Though don't for a second think that you won't be biting your nails in anticipation. A smart, dynamic feature that has been added to Seven 7's is the evolving paytable. Above the spinning row, a paytable constantly changes, indicating to the player what each new reel could mean for their payout. Watch it closely, and experience what true anticipation feels like.
A New Type Of Slot
Seven 7's is almost certainly the most original, innovative slot you will have seen in years. But there is only one way to truly appreciate how revolutionary the design is; by playing it for yourself. And you can do just that at Ruby Fortune Casino from the 18th of February, 2020.