Is Anderthals the Ideal Game When You're Stuck In Your Cave?
Source: Microgaming
These days, many people around the world are getting used to the idea of staying where they are most protected and seeking entertainment from home. Fortunately, there are plenty of new online slots that you can try your luck with when you need to wind down. In fact, among the best online slots to have been produced in recent times are those by the software developers behind popular titles such as Tiki Vikings, Ruby Casino Queen and Icy Gems, to name but a few. Now, the programmers at Just For The Win have come up with a caveman-based online slot for Microgaming, the reputable game publisher. Read on to find out what makes Anderthals stand out from many of the other online slots you could play and why many people are tipping it to become a big hit around the world.
The Look and Feel of Anderthals
To kick things off, Anderthals has a unique concept behind it. The game's developers have placed you in the company of two friendly cave dwellers named Andy and Annie Anderthal. They may only have animal skins for clothes and carry big clubs around with them, but they are a peaceful pair who like nothing more than to chew the fat by the fireside after a successful day's hunting. These two are so in touch with their environment that they even have a Tyrannosaurus Rex as a pet. Of course, any resemblance to Fred and Wilma Flintstone is entirely coincidental – besides, the Anderthals don't have any neighbours nearby. Therefore, Anderthals puts you – the player – in their company as you quest together to see how much you can win.
In terms of its graphical design, Anderthals takes a fairly conventional approach. There are five reels configured over four rows resulting in 40 different paylines that you could benefit from every time you take a spin. That is more than enough for most players who enjoy high volatility games like Anderthals where the hit rate you can expect exceeds 20 per cent.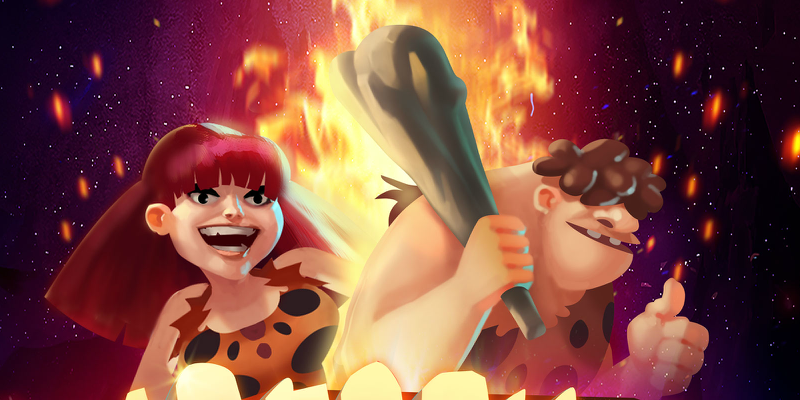 Source: Microgaming
Features You Can Benefit From With This Online Slot
Firstly, it should be mentioned that Anderthals will find the highest winning combination per line for you, so you will never miss out on a good result. You only get one win for each line but you can win multiple times for each spin. Wild symbols can be put in place of any other symbol except the game's feature symbol and a wild will substitute automatically to offer you only the highest possible prize outcome.
Looking at the reel area, you will notice a set of five feature spots arranged horizontally. These relate to the individual reel that is beneath them and will fill up with random features every time you take a turn. Should at least two of the same feature symbols turn up under the same spot, then the reels with those symbols will activate the corresponding features. In Anderthals' main game, these features are free spins, 1 x bet, 2x bet, wilds, expanding wilds, 2 x wilds and, finally, 3 x wilds.
The game's multipliers are self-explanatory but it is worth mentioning what happens when you get free spins. Once triggered, this will allow you to enjoy eight bonus spins and if you activate it more than once, further bonuses are added to this total. When you are playing in this mode, any feature symbols that you see will then trigger the corresponding feature spot. Alternatively, if you see any wild symbols on a reel that already has an active expanding wilds feature spot, then the wild will expand until it covers all four rows of the reel with wild symbols. Even better, multiplier wilds will augment your prizes from their base level by either two or three times!
Anderthals – Summing Up
With so many features and a return to player percentage that stands at over 96, Anderthals will be of interest to many experienced players. However, its broader appeal is likely to come down to the fact that its game design and concept are both very easy to get into. The comic-book appeal of the characters and the smooth animation of the game mean that it offers something we all need from time-to-time – sheer entertainment value! And there is nothing wrong with that. It certainly beats cave painting, after all.