Is Electric Avenue the Current Game Worth Playing?

The British singer-songwriter Eddy Grant had a big hit around the world singing, "We're gonna rock down to Electric Avenue" in 1983 before scoring further chart success with the single in 2001. The song's title, Electric Avenue, refers to a real street close to where he lived which was one of the first in London to have electric street lighting. This 80s anthem now has a superb online slot that shares its name - as well as a cool 80s vibe. Electric Avenue – the game, not the song – has been developed for Microgaming by an up-and-coming Estonian team of game creators. All41Studios have recently been behind titles such as Magic of Sahara and Book of Atem – some of the best online slots around - so if you enjoyed those, then Electric Avenue is likely to hit the mark, too. What does it have to offer players?
An 80s-Inspired Game Design
The first thing to say about Electric Avenue is that it has some very in-your-face graphics. It is like the whole game design has been centred around a vision of the 1980s that you might find in a cop drama set in Malibu or Hawaii in the middle of the decade. Think of Magnum PI or Miami Vice and you will have the right idea. There is a lot of shocking pink that is in use, much of it set against a black setting that makes it look like you are hitting 'the strip' with all of its neon signage just after sundown.
The game's symbols keep the 80s feeling going throughout. Whether it is the 80s puzzle craze of the Rubik's cube or a pair of louvred sunglasses, you will always be reminded about when Electric Avenue is supposed to be set. Furthermore, there is a soundtrack that is very distinct in its style. It will remind you of all the old pop songs of the era with plenty of electric music and sound effects thrown in for good measure.
The main screen feature palm trees over a setting sun and the symbols are laid out for you in four rows with six reels. Despite the colourful design, everything is clearly presented and it is easy to see what you are doing whether you are playing on a tablet, a smartphone or a computer screen. In other words, there are none of those horrible blocky graphics you might associate with 80s computer games.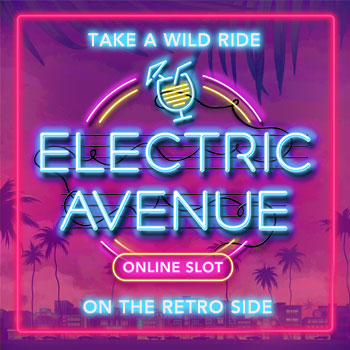 Exciting Game Features
So much for the design and nostalgia going on in Electric Avenue, what does it offer in terms of features? Well, this game certainly doesn't disappoint. Like all of the best online slots, its features are a little quirky but easy enough to figure out. In the base game wilds act as multipliers. Land one on reel two and you'll get two times your prize. If it appears on reel three, then it will be trebled and so on until a maximum of five.
If you are fortunate enough to get three scatter symbols on any of your reels following a spin, then you will be awarded a choice of feature. This is good because not many online slots give you these sorts of options. If you choose the Electric Free Spins, then you get a power wild which will stick on the middle reels for you until you have used up all of your bonus spins. With Electric Free Spins, you get seven of these but you can get three more if you fill a reel with power wilds.
The other feature you can choose in Electric Avenue is called Neon Free Spins. In this feature, you will obtain ten extra spins. However, you also get multipliers worth x11, x22, x33, x44 or x55. This is determined by your wild wheel and which reel it winds up on. During this feature, you can reasonably expect to see the wild wheel every couple of turns, so it offers a good opportunity to win a really big prize!
Does Electric Avenue Have Spark?
In summary, this Microgaming slot offers high volatility with a payout ratio that is well over 96 per cent. If you like that, then you will probably love the fact that it offers a total of 4,096 ways to win every turn you take. Of course, this is important to know but the fact that the game offers such a great blend of playability alongside nostalgic fun will be all the many players are interested in.