Don Bingote Review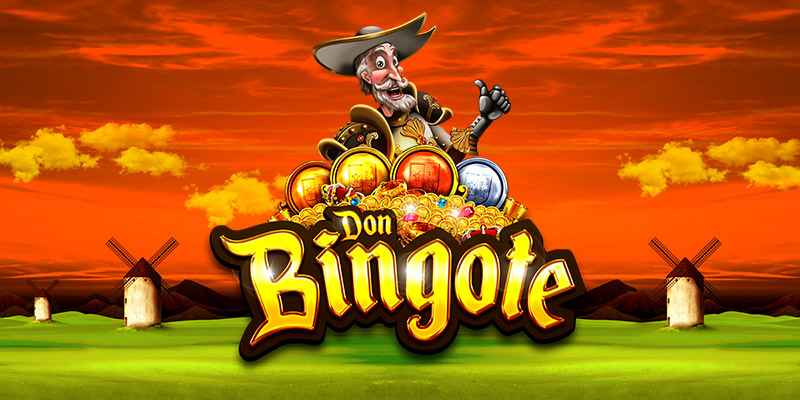 The name Don Bingote will probably remind you of two things: the Spanish traveller Don Quixote, who fought windmills, and bingo. And you would be right on both accords, as the latest game from Microgaming and Neko Games, Don Bingote, is just that. Combining the famous novel with a fun game of bingo, online casino players in Canada will most certainly have something more than just online slots to look forward to at Ruby Fortune, where Don Bingote is available to play. If you're already an avid bingo fan, we certainly don't need to explain how to play bingo, but let's take a look at how to play Don Bingote and what our online casino players in Canada can expect in terms of the game features.
How To Play
The first thing we need to know is that Don Bingote is a medium to high volatility game, which means that payouts may not happen as frequently, but they can be potentially bigger than low volatility casino games. The minimum bet sizes range from 0.05 credits (equal to 1 ticket) to 40 credits (equal to 4 tickets). At the start of the game, 30 balls are drawn at random and players will need to complete any of the patterns available in order to win a prize, with the numbers of the balls ranging from 1 to 90. After the initial 30 balls, an extra ball will drop, at an additional cost, should players require one more number to complete a winning pattern. The extra ball has the chance to turn into a Wild ball, which means that instead of a numbered ball, players can select any number that was not called during the game to complete a possible winning pattern.

Game Features
There are three main features when playing Don Bingote, so let's start with Diamantea's Castle bonus. When the relevant pattern has been completed, this bonus will be activated in the form of a tower with 5 different levels. Each level will have four windows with some of them containing prizes and some a flock of birds. Players will collect prizes and move on to the next level, but a flock of birds could either make Don Bingote fall and end the game, or make him stagger – this means that the game will continue but no prizes will be collected on that level.
The second feature is the Windmills Monsters Bonus which is also activated with the relevant completed pattern. This bonus also has 5 levels and players need to select one out of three monsters that contain a prize. Each monster will have a windmill that will either reveal a prize or will start turning and kick Don Bingote out of the screen and end the game.
The third feature is the Armour Bonus, also activated with a relevant pattern win. Inside Don Bingote's house, players will have to select between 8 parts of armour to find prizes, however, a Collect message will end the bonus game.
The most potentially exciting part when playing Don Bingote is the Bingote Jackpot Prizes. With each ball drawn, players will have the chance to be awarded with a golden shield. There are four jackpot prizes: Bronze will pay out 60x the current bet if 6 shields are collected in a round. Silver will pay out 160x the current bet if 7 shields are collected, while Gold will pay out 1000x the current bet if 8 shields are collected. Bingote will pay out 5000x the current bet per ticket value if 9 shields are collected.
Don Bingote certainly is a unique game and quite a new venture for Microgaming, who is the main provider for casino games at Ruby Fortune, so let's take a look at who created this game with them.
The Software Providers
As software provider, Microgaming, is mainly responsible for creating online slots, they have combined forces with video bingo games expert, Neko Games, to create Don Bingote. While Don Bingote is not your regular kind of game, it is a true testament of what happens when two great software providers come together, and most certainly is a great game to enjoy when wanting to take a break from slots.
Available At Ruby Fortune
Don Bingote can be enjoyed right here at Ruby Fortune, a fully licensed online casino in Canada, where players can also enjoy some other bingo-style games together with slots, video poker, table games and a live casino section. If you're new to Ruby Fortune, you're in for a treat, as not only will new players qualify for a welcome bonus (terms and conditions apply) but will also have access to our free-to-join loyalty programme, as well as other promotions. New games are released on a regular basis so be sure to check in from time to time as we constantly review our latest online casino games here.