Everything You Need To Know About Crankworx Rotorua 2020
Source: Pixabay
Rotorua hosts the only Crankworx event held outside Europe and North America and has done since 2015.
Kicking off the competitive mountain biking season
The festival attracts the world's best mountain bike riders, crowds of fans and plenty of locals too. The festival in Rotorua has quickly grown to rival other Crankworx festivals with its unique "dirt gold" and backdrop of lush semi-tropical forest. This year, Crankworx Rotorua 2020 takes place from 1–8 March and is guaranteed to be another week of high-adrenaline mountain biking to kick off the international competition season.
Did someone call it, Rotovegas?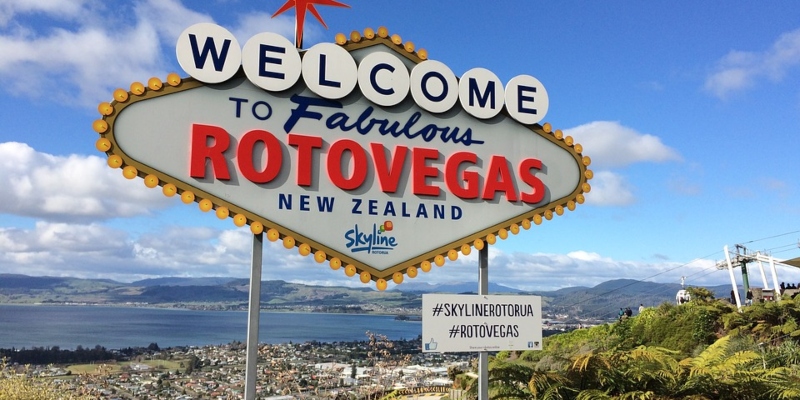 Source: Pixabay
Locals also call Rotorua, Rotovegas, especially in the mountain biking community. You'll need to use your imagination to find any resemblance to the other "Vegas": there's not a single casino in town. The name comes from a strip of mid-twentieth century motels built in the centre of town. So sorry to say, if that was what you were looking for, you'll need to find an online casino. What you will find is fascinating Maori culture to explore, eye-opening landscapes, great food and indoor and outdoor sports of all kinds. If you haven't visited Rotorua already, you may have heard of its famous geysers. The city sits on top of an active geothermal field and has many natural marvels: bubbling mud pools, geysers and thermal hot springs. These have given the town its other nickname, Sulphur City (and notorious rotten egg smell!). If you're visiting Crankworx Rotorua 2020 don't miss my favourite geothermal site: the champagne pool.
The Crankworx World Tour 2020
The Crankworx festival began in Whistler in 2004 and has grown to become the largest event of its kind. Some call it the epicentre of mountain biking culture and competition – and rightly so. The legendary Crankworx World Tour comprises three festivals: Rotorua, Innsbruck and Whistler. New Zealand is proud to host the Crankworx festival on its own soil and Crankworx Rotorua is the first stop on the world tour each year.
The Crankworx World Tour is an epic test of skill and stamina for riders. Total points from all the events, disciplines and World Tour stops are added together to find the riders with the highest total points. Top-scoring riders (male and female) take home 20,000 Canadian dollars: a huge sum in this sport and are crowned King and Queen of Crankworx. This long, multidisciplinary competition is one of the most difficult in mountain biking.
Names to look out for
Prelim Athlete List now live for Crankworx Rotorua >> https://t.co/K4IAKcHgQI pic.twitter.com/twcAPc65Ww

— Crankworx (@Crankworx) February 18, 2020
The top riders have already begun their annual migration to the Southern Hemisphere. Here are a few of the names to look out for in Rotorua in 2020:
The reigning Queen of Crankworx, Vaea Verbeeck from Canada will be competing in 2020.
Battling it out in the men's full world tour 2020: Bernard Kerr, Matt Walker and Eddie Masters.
Other pro men competing across events: Sam Blekinsop (King of Crankworx 2018), Adrien Loron, Tomas Lemoine, Elliot Heap, Bas Van Steenbergen, Austin Warren, Kyle Strait and an upcoming kiwi fave, Billy Meaclem…
Main events
Vaea Verbeeck is back to defend her crown when @Crankworx World Tour starts in Rotorua, New Zealand:

Photo: Fraser Britton/Crankworxhttps://t.co/SrzsuXMbTO pic.twitter.com/pVW8z7xZ9e

— Canadian MTB (@CanadianMTB) February 18, 2020
Crankworx Rotorua is so popular because of its incredible variety. This makes the festival exciting for mountain biking legends as well as mere mortals and their kids! Below are the main events at Rotorua in 2020:
The Giant Toa Enduro from the 2020 EWS Asia Pacific Series is the first event in the Crankworx Rotorua mountain bike festival. The world's best Enduro racers fly through the trails in the Redwoods.
100% Dual Slalom Rotorua – Held at the main festival ground, Skyline Rotorua, this is a crowd pleaser with two riders racing down a narrow track filled with jumps, berms, rhythm sections and grass turns. A challenging test of bike-handling skills.
Maxxis Slopestyle in Memory of McGazza – Kelly McGarry, and his building partner, Tom Hey, designed one of the best slopestyle courses in the world, called Skyline Rotorua Gravity Park. McGarry was also a master of the slopestyle discipline. After McGarry passed away in 2016 this event was renamed in his honour. This is the marquee event of the festival with all the elite of the discipline. Don't miss this one!
Rockshox Rotorua Pump Track Challenge – Two riders racing on side-by-side pump tracks in an epic chainless battle. This is a race with no pedalling, just flow and skill.
Crankworx Rotorua Downhill – Spectacular downhill racing and one of the festival highlights. Bridge drops, step ups and a rock garden in the unofficial kick-off to the downhill racing season. Viewing points along the downhill trail let you get up close to the action.
CLIF Speed & Style Rotorua – Just as the name says, this one is all about speed and style. Points are awarded for the fastest time and most stylish run. Racers compete head to head in a race combining elements of dual slalom, slopestyle and speed and style challenges.
Official Oceania Whip-Off Championships – Big attitude and big whips, this event is all about height and style. In resume, who can do the biggest and coolest whip on their bike! You'll need your camera ready for this one.
Side events and Expo
Crankworx Rotorua is the Southern Hemisphere's most popular festival because it's a festival that has a lot to offer everyone, not just competitive mountain bikers. Alongside the main events mentioned above, there's the school cross-country national champs, kids' events and the Crankworx Expo.
The Expo is held from 4-8 March and has all the big mountain biking brands together in one place. At the Expo you'll find vibrant tents and interactive displays from the industry's big names. You can enter competitions, see the latest products, grab free stickers for the kids, or just hang out and enjoy the festive atmosphere. You may even encounter a professional mountain biker taking their break. And since Crankworx cares about the next generation of bike lovers too, there's an entire Kidworx Festival for the little whippersnappers.
Kidsworx Arena and Kidsworx Challenger
The kids can enjoy Kidsworx events and activities at the Kidsworx Arena and Kidsworx Events. The Kidsworx Arena is a fun family zone for kids under 12 (and their families) that offers demo bike rides, coaching opportunities, scavenger hunts, fun trails and other activities. The kids can even meet some of their favourite riders. Kidsworx Events is where 6 to 12-year-olds can participate in Kidsworx Challenger events (participative races, like the pump track challenge) or Kidsworx Races (competitive events for kids).
If you're lucky enough to be part of the crowd at Crankworx Rotorua 2020 keep an eye on Emil Johansson. He's this year's hot favourite.