Hit the Back of the Net With 11 Champions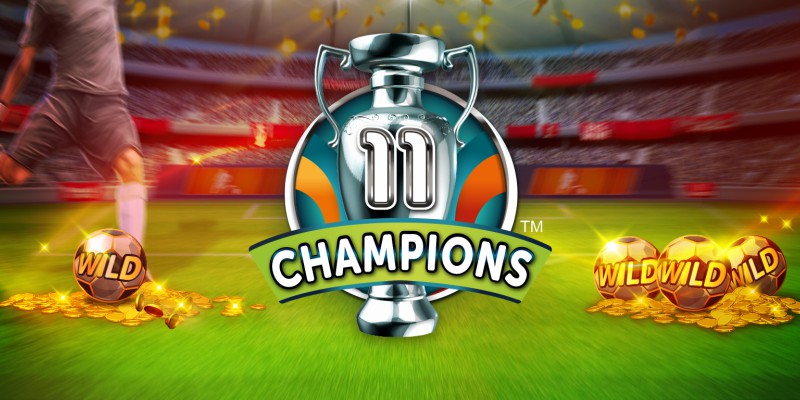 Source: Microgaming
Football may be known as the beautiful game but it has not always transferred well to video game adaptations. Now the launch of 11 Champions hopes to change all that. Will players of online slots find the game to be worthy of a championship-winning team or will it soon be headed for relegation to the lower leagues? Read our handy game review and make your own assessment.
11 Champions – Game Design Overview
To begin with, 11 Champions is brought to you by the highly respected gaming platform Microgaming, which has published some of the best online slots in recent years. This particular title has five reels and three rows. It has no fewer than 20 paylines, each of which forms different winning combinations. This is a high volatility game, so it is more like trying to win a big football championship rather than a one-off fixture, hence the name. As such, it is bound to appeal to players who are looking for the chance to win very big prizes. In fact, in common with many of the best slots with high volatility, this means being able to win prizes that are a significant number of times greater than your stake. In the case of 11 Champions, the top prize would be 5,000 times your initial outlay.
The graphical design of 11 Champions is very well put together. Whether you are viewing the game on a desktop PC or a mobile device, it will immerse you in a big-game atmosphere. The background is a huge stadium that is packed with fans. The reels spin over the field of play with a set of goalposts at the top of the screen. Players will see the usual playing card symbols but also soccer players, footballs, boots and goalkeeping gloves. Get them in the right combinations and you could win big. Mark the right ones and you could also dribble and pass your way towards the goal. In this regard, 11 Champions really stands out as quite an innovative game because players are always encouraged to keep their eyes on the bigger prize. Even if you are not a fan of football, these novel game features will make 11 Champions worth looking into.
In-Game Features
Blazing Wild Streak is the main feature in 11 Champions. This means that you are able to work your way towards the goal using a player who sits on one other 15 available symbol positions. Players can alter the colour of the shirt of this player to match their favourite team but he will always be circled so that you know which one he is. When the feature is enabled, the game's Action Reel, which sits at the top of the screen, will spin. There are four different outcomes that are possible with this reel. Players will able to move their player to an adjacent position or to keep him in the same place. Non-adjacent movements are also sometimes allowed with a pass or it is also possible to activate the game's re-spin feature.
Players can continue to play the Blazing Wild Streak until they are in a position where a shot on goal is possible. Shooting may or may not result in a goal, of course. However, if it does, then all of the previously marked positions on the screen during that phase of play will turn wild. You'll also gain an automatic re-spin which comes with a generous x11 multiplier. 11 Champions also has a Jackpot feature. This is triggered if you ever get three or more scatter symbols following a turn. Four different jackpots are on offer in the game – grand, major, minor and mini – each with a corresponding prize.
Is 11 Champions Among the Best Online Slots?
The return to player ratio with 11 Champions is 95.93 percent, so players who are willing to put up with a higher volatility can expect to play a game that offers a very reasonable potential return. The maximum hit frequency you can expect is a little under 26 percent. Nevertheless, the ability to tailor the game is what is most likely to appeal to soccer fans, if not everyone else. That said, this game is aimed at a wide audience and in many aspects of gameplay it scores very well indeed.